Custom Clothing for the Modern Gentleman
At Bespoke Apparel we take a holistic approach to maintaining our clients' wardrobes. We work with you to build a cohesive, versatile collection of clothing that is unique to each client. No matter what is on your calendar each day, we want you to be able to reach into your closet confidently and know that you have exactly what you need.
​
Bespoke Apparel can help you stay perfectly attired from the golf course to gala night. 
Tradition
Bespoke Apparel is home to two generations of clothiers. David and Danielle have over 40  years of combined experience in helping men carefully curate their wardrobes.  Our fabric is sourced from the finest European mills and each garment is created with care by master tailors from around the world.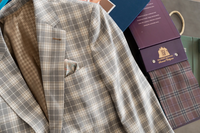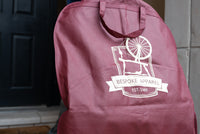 Service
At Bespoke Apparel, we strive to make our clients lives better through their wardrobes. Each piece should be intentional, useful, and enjoyed.  We are full time, professional clothiers who make maintaining your wardrobe easy and convenient.  We visit our clients in their homes or offices to minimize disruption to their day.  Bespoke Apparel also maintains a showroom on the western edge of Clayton, MO. Clients can comfortably peruse fabrics, look at sample garments, and have one of our clothiers design outfits specifically for them.
Testimonials
I always make a statement dressed in Bespoke.

Reverend Cedric Portis
Bespoke is simply the greatest

Muhammad Ali
They're awesome...the suits and the Corbitts

Ernie Johnson Jr.
It's a Family Thing
David has an unmatched sense of style and fit. He has worked closely with clients for over 30 years to build wardrobes that complement their lifestyles and now he passed that knowledge down to his daughter, Dani. And now with almost a decade of her own experience, Dani brings a fresh perspective to the family business which helps Bespoke Apparel stay rooted in tradition but continue to innovate for the future! Their clients include professional athletes, television personalities, mega-church ministers, and financial industry rock stars, not to mention actual rock stars as well. 
The Corbitts ability to assess how a man wears his clothing and create personalized looks to accentuate the qualities he wants to communicate to the world has made Bespoke Apparel a go-to custom clothing company for successful professional for more than three decades.